Camille Charrière
A writer and broadcaster for the major media, a creative director, a fashion influencer and a planet-conscious person, Camille Charrière is Comptoir des Cotonniers' special guest. She was destined for a career in finance in London, but she finally set her sights on the fashion world. Thoughtful, committed and full of humour, the woman who has more than 1.3 million followers on social networks shared a few of her secrets with us.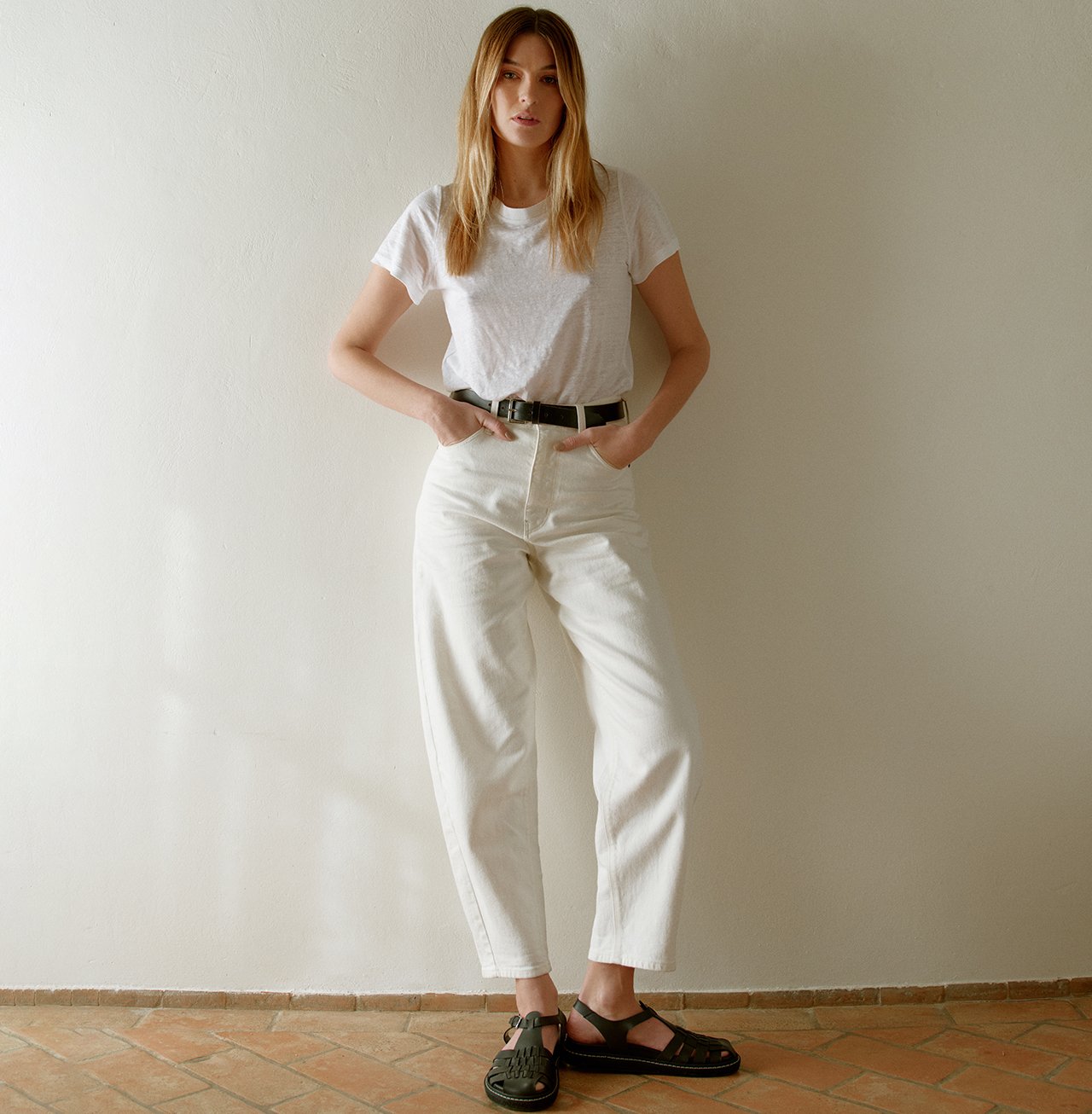 To define your style, you used these words: « Feminine, timeless, and a touch punk. » Can this be applied to the Comptoir des Cotonniers Spring-Summer collection?
Yes, but the key is attitude. If the look is sexy and playful, it changes everything, even with a classic white T-shirt and jeans. Not forgetting details like the colour of a nail polish, or an accessory.
Comptoir des Cotonniers offers sustainable iconic looks. Does this fit with your vision of fashion?
Absolutely. It's essential to have basics you never tire of. If only for those mornings when you don't feel too inspired, but still want to look good.
In this magazine, you pose in cheerful colours: green, coral... Are these your choices for the summer of 2022?
The pandemic has made me realise how much colours can give you a lift, boost our morale. I used to hate green but for the last two years, it has been my new colour. Perhaps a need to reconnect with nature after this long period of lockdown? I also really like coral, which reflects a desire for more fun things.
Your favourite piece among these looks?
A special mention for the little black sandals! They remind me of my childhood, and something of the Olsen twins too.
A detail you always bank on?
Stripes! They never go out of fashion and give a graphic and classic dimension to any look.
What does it mean in 2022 to be stylish?
Not being afraid to express your opinions. To be one of those women who think that dressing is important, but expressing yourself is even more important.
What essential piece of clothing should you own at 20? 40? 60?
A pair of jeans. A must-have at 20, just like at 40 and 60!
Your favourite summer destinations?
I have a soft spot for Sicily and cities that are not too sleek, like Palermo, Naples, Marseille... I like authentic landscapes, bursting with life.
The item you can't live without?
It's awful but… My telephone!
When did your commitment to the planet start?
In the cradle. My mother is an environmental engineer.
An eco-conscious fashion tip?
Buy less, and choose pieces that you are absolutely sure to wear.
You just got married (congratulations!). How do you feel?
Very, very, very, very happy!
Camille had fun putting together her own looks from the Comptoir des Cotonniers 2022 Spring-Summer collection of iconiques and essentials that caught her eye.
She loves the simplicity of the white linen Amandine t-shirt paired with white Sydonie jeans for a classic summer outfit and the cool vibes from the bright red printed Laetitia mini dress with braided flat mules.
Green is back on her wishlist so, naturally, she went for this woven linen top that she paired with the new pale grey smooth wool Joséphine trousers to create a fashion statement. Last but not least, she went for loose Yvonne trousers and the striped polo to style up a relaxed head-to-toe linen look for summer. Shot in the South of France, Camille's charisma and ease take her looks to another level.